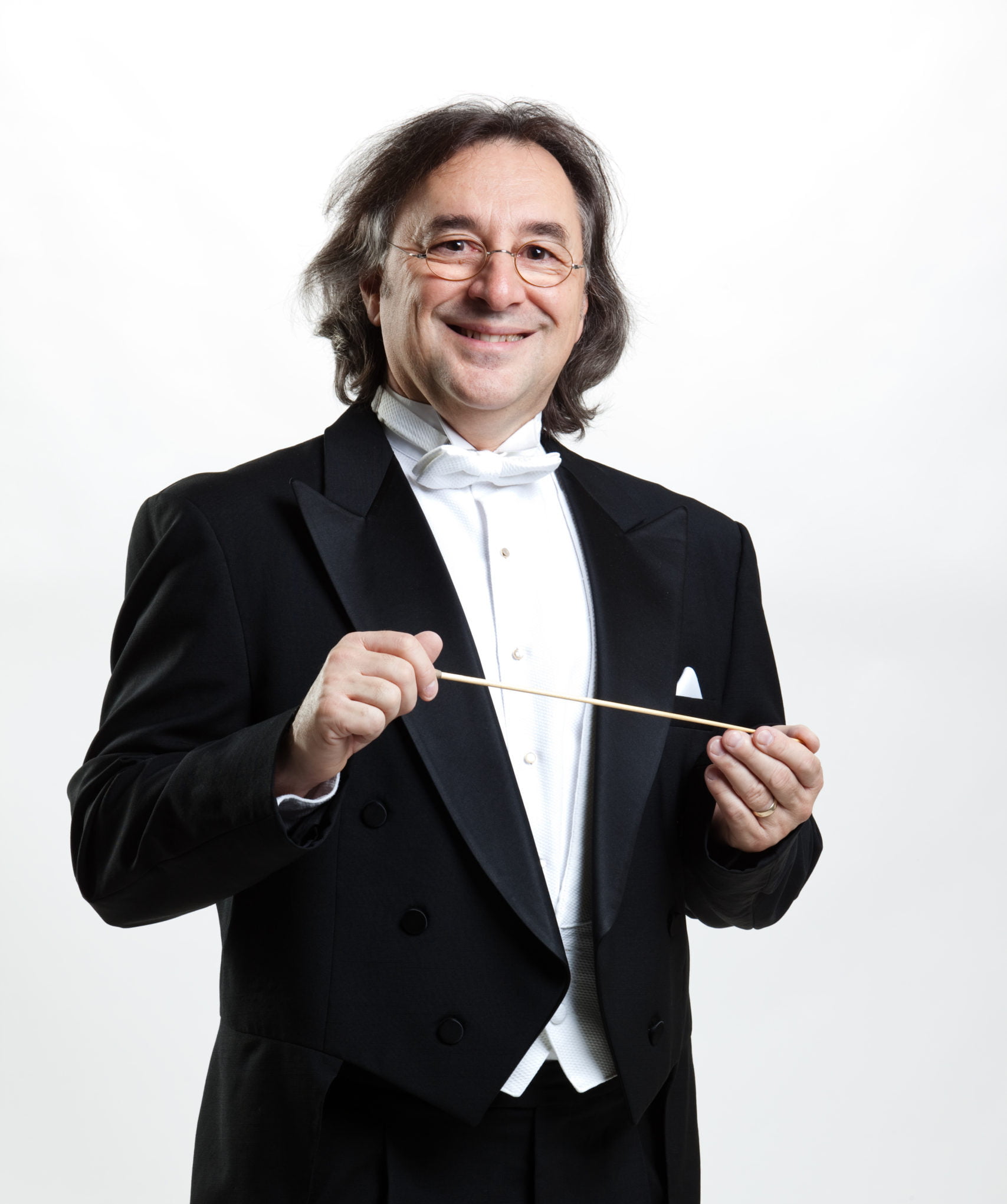 Artistic Director and Conductor
A founding member of the OSG, Yves Léveillé has a degree in music and received the Prix du Conservatoire de musique du Québec à Gatineau in clarinet and chamber music. Between 1985 and 2019, he went on to teach the clarinet, chamber music and introduction to orchestra conducting, while continuing to manage the orchestra's choir.
Eleven-time winner of grants from the Government of Quebec, he has taken professional development internships in clarinet in Chicago with Robert Marcellus, in contemporary music, choir direction, song and violin basics.
Mr. Léveillé studied orchestral conducting at Sienna, Italy, thanks to financial support from the Canada Council for the Arts and the Government of Quebec. Yves Léveillé was nominated artist of the year and received Gatineau's Culturiades Prize in the "Creation" category in 1998.
As a conductor, Mr. Léveillé has directed the Orchestre régional de l'Outaouais on numerous school tours.
With Orchestre symphonique de Gatineau, Mr. Léveillé has directed several orchestral creations for various artists such as Bruno Pelletier, Luc De Larochellière, Luce Dufault, Daniel Lavoie, Natalie Choquette and Marie-Denise Pelletier, to name just a few.
Mr. Léveillé played bass clarinet with the Ottawa Symphony Orchestra from 1983 to 2003, first clarinet with the Orchestre des Concerts symphoniques de Gatineau for almost 20 years, and first clarinet with the Savoy Society of Ottawa.
He is a founding member of Ensemble du Jeu Présent and of the Avignon wind quintet, and he also served as Director of the École de musique d'Orléans (MIFO) from 1992 to 1995.
From 1999 to 2003, he directed Les Productions lyriques de Gatineau. As a clarinettist and conductor, Yves Léveillé has been involved in numerous recordings such as: Contretemps/Go, Sax Lib, Passions symphoniques, Keep Close to God, Classic Gypsy, Hommage à la chanson française, with Noël Samyn, Les Deux Rives and L'artiste de Noël, with the orchestra and the Top Passion vocal group.
Mr. Léveillé managed the famous Canadian Guitar Quartet, and founded the TGIF/Enfin vendredi concert series.
OSG cannot achieve such great goals and be successful without the excellent musicians who are part of it.
Violins
Marie-Josée Arpin (Concert master)
Brigitte Amyot (principal second violin)
Carl Beaudoin
Maria Nenoiù
Stéphanie Belzil
Marthe Charlebois
Cendrine Despax
Ioan Harea
Solange Tremblay
Marie-Claude Massé
Renée-Claude Perreault
Lana Tomlin
Georges Stathopoulos
Gilbert Bélec
Pascale Gratton
Jennifer Francis
Micheline Kinsella
Violas
Jean-Marc Martel
Sonya Probst
Tobie Slippert
Maxime Despax
Olivier Philippe Auguste
Cellos
Julie Trudeau (solo)
Jacob Auclair-Fortier
Valérie Despax
Jean-François Marquis
Basses
Paul Mach (solo)
Marie-Christine Desrosiers
Flutes
Pascale Margely (solo)
Jeffrey Ray Miller
Mélanie Desmarais (piccolo)
Oboes
Frédéric Hodgson (solo)
Marat Mulyukov
Clarinets
Roxanne Léveillé (solo)
David Perreault
Bassoons
Jo Ann Simpson (solo)
Serge Fortin
Trumpets
Francis Pigeon (solo)
Henri Ferland
Horns
Nigel Bell (solo)
Lyne Santamaria
Cresta De Graaff
Michel Levasseur
Trombones
Éric Vaillancourt (solo)
Madeleine Doyon-Robitaille
Serge Filiatreault
Tuba
Audray Boivin-Laframboise
Percussions
Sylvain Bérubé
Alvaro de Minaya Yanez
Up to 30% off ticket prices, and many more benefits !
Automatically enter the draw for two free subscriptions for the following season.